Costa Rica: Una dictadura mediática
Costa Rica: Una dictadura mediática
" Cuanto más ignorante es el borrego más fácil es pastorearlo"
"Los medios de comunicación de masas actúan como sistema de transmisión de mensajes y símbolos para el ciudadano medio. Su función es la de divertir, entretener e informar, así como inculcar a los individuos los valores, creencias y códigos de comportamiento que les harán integrarse en las estructuras institucionales de la sociedad. En un mundo en el que la riqueza está concentrada y en el que existen grandes conflictos de intereses de clase, el cumplimiento de tal papel requiere una propaganda sistemática"                                                                                                                                                                             Noam Chomsky, 1990
Nunca como hoy ha sido tan evidente el fatídico papel que ha tenido los medios de comunicación en Costa Rica e incluso se puede afirmar sin riesgo de parecer exagerados como descaradamente han enmarañado y cercado la problemática del plan fiscal,  mediante cortinas de humo, desinformación y manipulación.
  La información es poder, quien la sabe, la controla. Ese conocimiento le permite al sujeto seleccionarla, controlarla y emitirla a conveniencia de las élites capitalistas;
Se logra propagar información disfrazada de "libertad informativa" y la mentira se hace pasar por verdad. Se ha instituido lo que es "políticamente correcto" y se han establecido una serie de estrategias imperceptible que van a desviar la atención sobre los verdaderos problemas.
  En Costa Rica esa libertad informativa está controlada y manipulada por las élites neoliberales, con fines y objetivos claros. Se cuentan con una pequeña flota selectiva de "periodistas"  cuya función es servir de canal informativo, se les instala en plataformas que figuran como instancias de veracidad, para que estos vayan encaminando a la población a una especie de limbo informativo,  en donde se le bombardea de forma inconsciente e imperceptible al pueblo sobre cómo deben pensar, qué deben decir y cómo deben actuar.
  Debido al panorama informativa en que se encuentra el país se ha realizado un análisis superficial que busca demostrar cómo los medios han manipulado uno de los principales problemas que enfrenta Costa Rica, que es la crisis financiera; para ello se tomará como base teórica, la propuesta de Sylvain Timsit, quien elaboró una lista con las "Diez Estrategias de Manipulación Mediática", que se deben tener en cuenta a la hora de ver, leer y escuchar el contenido de  los medios de comunión.Misma que ha sido atribuida al lingüista  Noam Chomsky.
El conocerlas le va permitir al tico promedio dejar de  ser ciegos instrumentos o sujetos pacientes de la información que recibe, asimismo le puede permitir un despertar colectivo.
Entre esas estrategias mediáticas sobresalen: 
Distracción
Según Chomsky es aquella estrategia que permite desviar la atención del público de los problemas importantes y de los cambios decisivos tomados por las élites políticas (los gobiernos). Lo que se hace es mediante la técnica del diluvio o bombardeo de información insignificante y llamativa, desviar la atención de los sujetos para que estos pierda de vista la realidad de los problemas.
  Los medios se encargan de generar las conocidas "cortinas de humo" y así predominan las notas de farándula, curiosidades o deporte, con la finalidad de provocar  una sociedad no pensante,vacía y con una mentalidad básica carente de interés por verificar la veracidad de la información suministrada.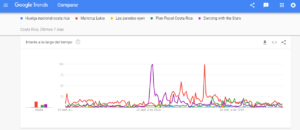 Según las estadísticas de Google, el posicionamiento de las palabras: Huelga Nacional, Maricruz Leiva, Dancing With the Star, Plan Fiscal y las Paredes Oyen, en las búsquedas  hechas en Costa Rica entre el 21 al 26  de setiembre 2018 en plena crisis financiera,  los temas con mayor búsqueda y posicionamiento  en Google Costa Rica, han sido  noticias de índole que pertenecen a la farándula ( Dancing With The Star ) por encima de temas de relevancia Nacional.  
  No es casualidad que el usuario  tenga inclinación por ver cómo "Keyla Sanchez Cerro la tercera gala…" Ya que este es un tema recurrente en el imaginario colectivo; el problema es que este tipo de información aunque no aporta nada tiene a la gente llena de ignorancia pero feliz, y ese panorama favorece a las élites.